Workshop in Rostock
The Design_2_Business Conference took place from January 21-23 2019 as part of the CTCC INTERREG program at the Chamber of Industry & Commerce in Rostock. EU project partners from Lithuania, Sweden and Poland visited. Many interested participants from the fields of blue and green economy and the creative industries were working together on cross-innovation and design thinking with a focus on sustainability to Rostock.
Speaker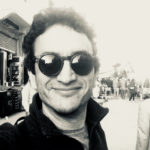 Prof. Dr. Alejandro Lecuna
Prof. Strategic Design & Design Driven Innovation, HTW Berlin, Germany
Alejandro is a Berlin-based innovation designer, entrepreneur, and academic. In his design career, spanning over 25 years, he has consulted for large corporations, non-profits and start-ups within various industries (i.e. telecommunication, finance, education, automotive, digital) enabling them to conceive, evaluate and realize innovative ideas.
Back to workshops